Mystery Block 5 & Exciting News!!
CANTIK BATIK MYSTERY BLOCKS 5


have arrived and we will be shipping this week.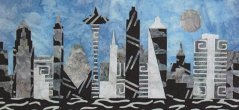 US Metropolitan
Northwest Territories
---
Gloria Loughman Classes
We have 2 spaces available for
Fabulous Facades.
September 23rd & 25th
$50.00 deposit/ $190.00 due June 1st
Please let us know ASAP if you are interested.
604-885-6677

---
Exiting News!!
We have partnered with
Woodpecker Ridge Studios Longarm Quilting Services and we now have a Gammill Statler Stitcher in our store!!
We will be ready to quilt your quilts by Mid April!
Book your time NOW!!
Introductory prices until September.

---
Long Weekend Hours


We will be OPEN




GOOD FRIDAY March 25th 10am-5pm &




closed Easter Monday March 28th.


Happy Easter!

Christine & Stephanie